The society we live in today is a rapidly changing to an
information-oriented society. Therefore, we are facing an era
of infinite competition. In the midst of these circumstances, community health centers are also at the point where they must change.

In my opinion, this change should be in the form of an internal reform carried out by community health center staff who know their own situation best and who can create the right atmosphere and culture in their center through their creativity and passion, rather than change being unilaterally imposed from outside.

My self and all the employees will do our best to create the aforementioned atmosphere and culture. By doing so, we will make the best community health center about which all residents of Guro, community health center employees, and local communities can feel satisfaction.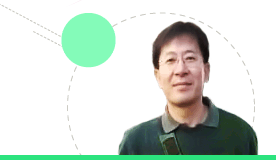 1. We will enhance the fairness of providing care by providing medical services of superior quality to low-income families and vulnerable members of society.
2. We will prevent illness and promote the health of the residents by substantiating a plan for regional community health care and we will also strive to become a bona fide regional health authority that does its best to improve the quality of life.
3. We will become the center of regional health care services by establishing a regional health care information system.
4. We will elicit participation from medical and health care providers in the private sector and from residents.
I hope that our website will be helpful to you in obtaining useful information and I will always do my best to play an active role in health care and sanitation matters area with Guro Community Health Center employees. I wish all residents of Guro good health.

Thank you.