Background of the project
Although the Seoul digital industry complex is rapidly changing due developments in IT, venture, advanced technology, and cutting edge technology, Garibongdong cannot respond to changes in the surrounding areas due to dilapidated housing, unfavorable commercial conditions and lack of an industrial foundation.
The goal of the project is to establish a multi-functional city combining housing, commerce, culture, and distribution facilities. It will boost the regional economy by improving the city environment and through the balanced development of the city.
District Outline
District Name: Garibong Rearrangement Promotion Organization
Location : Guro-gu Garibong 125 bunji Ilwon
Area : 332,929㎡
Business type: City Environment Arrangement Project
Development Objectives

Develop newly established businesses to become a multi-functional city affiliated with the Seoul digital industrial complex along with enhancing the city's competitiveness via support and input from Seoul digital industrial complex and the development of tourist resources.

Development plan: Commerce, operation, culture, and housing complex development
Project operator: Korea Land Housing Corporation
Implementation Method: Management processing method for common implementation
Preexisting building: Total 1,236 building (1,024 buildings for housing, 187 buildings for neighborhood living facilities, 25 buildings for operation and other purposes)
Preexisting household numbers: 6,737 households (826 households in the district, 5,911 households for tenants)
Purpose: Regular housing 82,085㎡, dwelling 155,128㎡, regular commerce 50,129㎡, industrial areas 4,093㎡, green zone 41,494㎡)
Business periods: 2004.2 ~ 2015 (modifiable in the middle of proceedings)
Major development plans (overall)

A block: Digital support oriented (commerce, operation, accommodation (hotel),variety of housing)
B·Cblock: High concentration of housing in railway station vicinity (Development of housing based on prospective consumers, establishment of cultural facilities)
D block: Regular housing (Re-settlement of current residents (tenant))
Walk and green axis: East-West axis: Establishment of specially designed road, South-North part: Affiliation of digital industrial complex
Underground construction of Nambu beltway and of ecological park: Reduce the disconnection between industrial areas and enhance industry support functions

Location

Vision and objective of the development plans

Structure distribution plans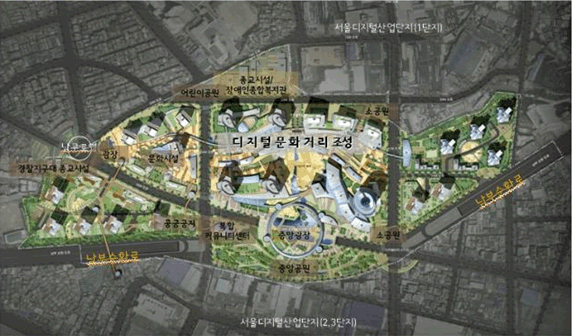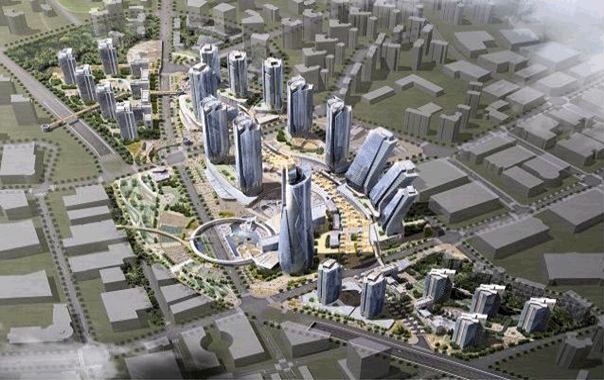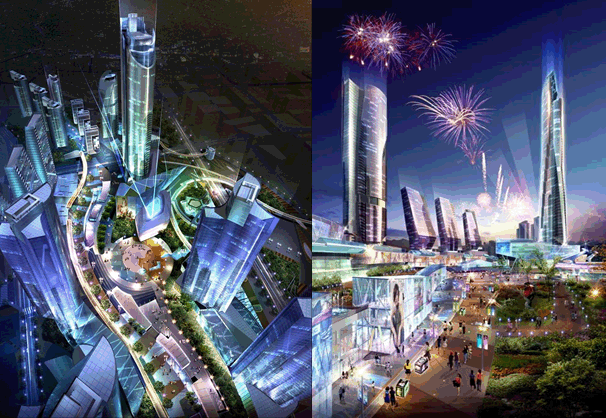 Structure distribution plans and air view are plan proposal and might be modified due to design procedures and business performance plans in the future.
Progress
2003.11.18 : Designation of region for balanced development (Notified in the city of Seoul 2003-374)
2004.11.22 : Announcement of basic development plan (Reporter team in Seoul)
2004.11.23 : Held resident led presentation (Garibong 2-dong Youngil elementary school)
2004.11.24 : Held resident led presentation (Garibong 1-dong Garibong church)
2005.05.06 : Approved and announced basic development plans (Seoul) → Administration plan (Designation)
2005.05.28 : Held resident led presentation (Garibong 1-dong Garibong church)
2005.06.16 : Modified basic plan for the housing and city environment improvement in Seoul (City environment improvement part), (Special notification in Seoul, the 2005-180) → Designated a place scheduled for arrangement
2005.10.27. ~ 11.10 : Display for improvement plan proposal and modification proposal
2005.11.18 : Advice from old city planning committee
2005.11.25 : Designation of place for arrangement and applied for arrangement scheduled place (Gu→The city of Seoul)
2005.11.29 : Conclusion of contract for operator in priority (Guro-gu↔Korea Housing Corporation)
2005.12.12 : Gathered opinions from City Committee
2005.12.21 : Review of modification for city management schedule (targeted region, modification of district) by city plan committee
2006.01. ~ 02. : Established modification proposal of the basic development proposal
2006.02.24 : Review of basic development plan proposal by the Seoul balanced development committee
2006.03.04 : Cooperation performer in priority and business presentation (Korea Housing Corporation)
2006.03.13 : Notification of basic development plan and basic plans for city and housing environment
2006.03.16 : Notification of residents display proposal (2006.03.17~03.30)
2006.03.17 : Gathered opinions on arrangement proposal from gu-committee
2006.04.03 : Advice for arrangement plan proposal and city plan committee
2006.04.12 : Review of city and construction committee for designation of places for arrangement
2006.04.27 : Notification of designation for Garibong 1dong area for city environment arrangement
2006.05.02 : Survey on the feasibility of underground railroad in Nambusunwanno and initiated service for basic plans (Seoul-si)
2006.05.17 : Delivery of survey document of Garibongdong city environment arrangement project (Cooperation performer in priority)
2006.07.14 : Held resident led presentation for Garigong city environment arrangement project
2006.08.01 : Report of the General of the construction and transportation department for places designated for arrangement (Seoul-si→The Construction and Transportation Department)
2006.09.04 : Held resident led presentation (Broadcasting room in Youngil elementary school)
2006.11.03 : Notification of designating business performer (Korea Housing Corporation)
2006.11.24 : Started service for business implementation strategy
2007.06.22 : Constitution of resident committee
2007.06.27 : Constitution of brand development advice committee and holding of meeting
2007.10.25 : Held investment presentation (domestic)
2007.10.24 : Held meeting by advice committee as to the field of establishment for U-City
2008.04.24 : Held meeting led by residents (Owner of lands) (Garibong church)
2008.05.22 : Designation of Garibon rearrangement promotion organization and notification for rearrangement promotion plan (Special notification in Seoul, the 2008-174th)
2008.11.26 : Opened an advertisement office for Garibong rearrangement promotion project and held the opening ceremony for city brand
2008.09.08~2009.06.15 : Advice from modification proposal for rearrangement promotion plans and city of Seoul (Total five times)
2009.06.29 : Notification of display to residents as to modification proposal of Garibongdong rearrangement promotion district and rearrangement promotion plan (Display period : 6.30~7.13)
2009.07.21 : Gather opinions of gu-committee as to rearrangement promotion plan(Took the original proposal)
2009.07.23 : Public hearing as to modification of rearrangement promotion plan
2009.08.10 : Application for the Garibong rearrangement promotion district and rearrangement promotion plans (Guro-gu→Seoul-si)
2009.10.27 : Review of the city of Seoul rearrangement committee (postponed)
2009.12.14 : Advice of rearrangement committee for the city of Seoul
2009.12.21 : Advice of rearrangement committee for the city of Seoul
2009.12.22 : Review of the city of Seoul rearrangement committee (Modified and approved)
2010.01.28 : Notification of modification for Garibong rearrangement promotion district and rearrangement promotion plans
Future Plan
Year, 2011 : Proceed with items needed for setting up a business implementation plan
Year, 2012 : Get an approval for business implementation and management process plans
Year, 2015 : Completion of construction
* Aforementioned plans might be modified in the middle of business procedures